Thermal regulated Block for the performance of ageing tests in air and in liquids of elastomeric materials at temperatures up to 250°C
Glass Tubes for samples.
4 glass tubes with a diameter of 38 mm and a length of 300 mm can be inserted into the instrument.
The specimens can be inserted into the glass tubes and locked using the fasteners provided.
Fixing devices allow the specimens to be placed in order to avoid contact with the glass tube walls.
Glass Tubes for test according to ASTM D865
The glass tubes are closed in the upper part with PTFE plugs provided with holes for the insertion of the glass pipes requested for the aging test in hot air according to ASTM D865
Water-cooled reflux condenser
For aging tests in volatile liquids it is necessary to use condensation columns connected to a water supply. The condensation columns allow to condense the volatile part of the test liquid and make it fall back into the tube. In this way, the amount and formulation of the liquid in the glasses will remain unchanged.
A condensation column can be applied to each test tube.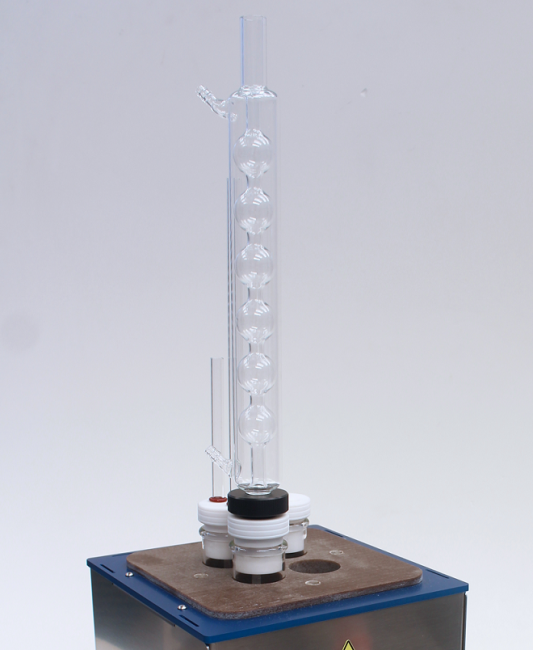 Test stations
N° 4 glass tubes with 38 mm diameter and 300 mm length The use of individual test stations eliminate cross-contamination among different products under test
Heating system
The thermal resistance surrounding the round-shaped aluminium block ensures uniform heating of the system
Temperature control range
From room temperature to 250°C (Resolution 1 °C)
Vapour phase recovery
By condensation with water-cooled reflux condenser
Timer for set of test time
Timer with set of hours and minutes with automatic swiching off of the heating system at the end of the time
Safety devices
Safety Pushbutton.
safety thermostat for over-heating
Calibration
Calibration Report conforming to ISO 1817 with traceability to primary standards
Power supply
220 VAC ±10%, 50 Hz ±3, 10A, single phase - 110 VAC ±10%, 60 Hz ±3 on request.
Dimensions
Instrument only: 400 x 420 x 360 mm
With test tubes holders: 490 x 420 x 360 mm
And with reflux condenser mounted: 490 x 420 x 860 mm