Micro-IRHD Hardness tester with laser centring device and rotating sample holder for the automatic serial measure of O-ring and small rubber parts
Accredia Calibration of the instrument
The instrument is available with ACCREDIA calibration certificate. The certificate is issued by Gibitre ISO 17025 Accredited laboratory.
Standard Calibration service for IRHD Hardness Tester
The calibration is performed with reference to the requirements of ISO 48 standard.
The service includes:
• Ordinaly maintenance of the instrument
• Visual inspection of the Indentor.
• Calibration of the Pre-Load, of the Main Load and of the weight of the Anular foot.
• Calibration of the force apllication time for Pre-Load and Main-Load (NEW)
• Calibration of the displacement of the indentor in correspondence with several IRHD Hardness readings
• Pre-calibration and Post-Calibration test of the instrument with reference test samples (NEW)
• Issue and e-mail shipment of the Calibration Certificate with traceability to primary standards.
Use of the Instrument
To perform the test you simply need to:
- place the parts to be tested across the test line of the sample holding disk
- insert the identification of the product
- press start
- print the test report and save the test results when the complete rotation of the disk has been performed and all the samples have been tested.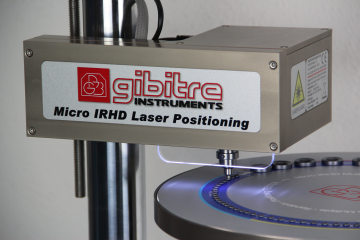 Software Characteristics and connection to the PC
The software is compatible with Windows 7 and 8 (32 and 64 bits).
The connection of the instrument to the pc is made via USB cable (supplied with the instrument)
More instruments can be connected to the same PC and used at the same time.
Technology of Micro-IRHD device
The micro-irhd testing units produced by Gibitre measure the force applied to the sample using a load cell.
This technology, widely used for the hardness testers for metals, permits to eliminate the effect of friction in the application of the force and improves the test repeatability.
Characteristics of the laser centering device and of the sample-positioning system
The laser sensor used is class 2 type and has 0.002 mm reading resolution.
The sample positioning disk permits to set the position of the test piece with 0.005 mm accuracy.
The combination of accurate measuring and sample positioning devices ensures a very high repeatability of the results obtained even when very small parts are tested.
Unit of measure
IRHD-M (micro)
Resolution
0.01 irhd point
Instrument Control
With Gibitre-Hardness software
Test modality
Serial automatic testing of the parts placed across the test line of the sample holding disk
Calculated Results
• IRHD Hardness
• Thickness of the sample
• Angle coefficient of hardness relaxation curve
• Hysteresis (sample return after set time from load removal)
• Correction of hardness according to the thickness of the sample
Data analysis
Mean, std. Dev., min, max, Cp, Cpk of test results. X-Chart and Gaussian distribution
Graphs
Rubber Relaxation curve (hardness versus test) time in linear and logarithmic axes
Tolerance verification
Comparison of test results with the tolerance limits set for the product
Results storage
Saving of results and curves in standard database
Laser Device
Class 2 laser sensor
Resolution: 0.002 mm

Sample thickness
Between 1 and 20 mm
Calibration
Electronic calibration
Report with traceability to primary references
ACCREDIA calibration Certificate (optional)

Personal computer
Minimum Configuration: Intel Core I3 2 GB RAM.
Compatible Operating Systems: Windows 7, 8 and 10;
Connection to the instrument via USB Cable (included)
Software usage Languages
Italian, English, French, Spanish, German, Portuguese, Russian, Chinese, Japanese, Turkish, Polish, Czech
Power supply
110-240 V, 50/60 Hz, 15 W, single phase
Dimensions
(W x D x H) 470 x 350 x 600 mm