Three plate device construction
The 3-plate model is optimal for performing large quantities of tests in one run, allowing up to 24 ISO 815-1 Type A specimens to be tested simultaneously.
For changing control needs, the intermediate plate can be added or removed.
The total weight of the assembled device is 11,5 kg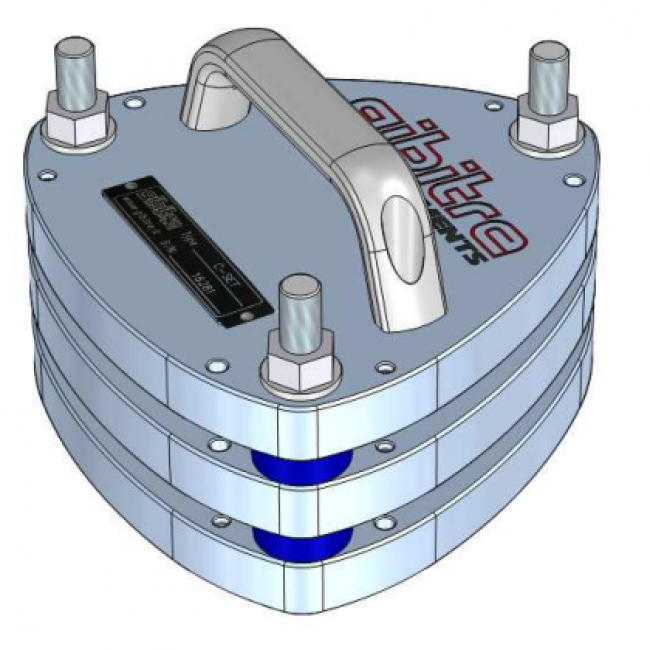 Two plate device construction
The 2-plate model is versatile and light, allows you to test up to 12 ISO 815-1 Type A specimens simultaneously and is optimal for laboratories where specimens arrive in staggered fashion.
The total weight of the device is 8 kg.
Optimized surface for numerous specimens
The usable surface of the devices allows to test up to 12 ISO 815-1 type A specimens.
A rectangular device with the same surface could only accommodate 8.
Support base: Assembly and Opening of the device Quick and Safe
The assembly and opening operation of the device can be tiring and not without risks.
The support base, specially designed to be locked in a vice, ensures that the device does not move during operations and allows you to use the automaic screwdriver to avoid the use of wrenches: a pit stop for your Compression set.
Mould for samples
• Mould for sample prepation
• Thickness meter for the measure of sample thickness
Interchangeable silicone feet: safer handling and attention to the laboratory
The reduction in the number of sharp and angular surfaces helps to reduce the risk of shocks and noise during numerous manipulations of the devices.
Equilateral triangle construction
The shape of the equilateral triangle device and the thickness of the 18 mm plates eliminates the risk of deformation of the plates even with a large number of specimens with high hardness and guarantees to apply the same deformation to all specimens.
Development and production
The instrument is totally developed and produced in the plant of Gibitre Instruments in Italy.
All the mechanical parts are produced in the company workshop using modern CNC machines.
Components and sensors from well-known brands are selected in order to ensure the maximum reliability in the measures
Internal trained personnel takes care of all the production stages: assembly, start-up, calibration, packing, shipment and installation.
Dimensions of the assembled device
Device with 3 Plates:(WxDxH) 182x184x123 mm
Device with 3 Plates:(WxDxH) 182x184x93 mm
Usable surface / Samples for layer
100 cm2 - 12 Samples (with 29 mm diam.)
Standard Spacers (Big sample)
ISO 815 Type A: 9,35 mm ± 0,05 mm
ASTM D 395 Type 1: 9,5 mm ± 0,02 mm
DIN 53 517-II: 9,38 mm ± 0,01 mm
Standard Spacers (Small sample)
ISO 815 Type B: 4,75mm±0,05mm
ASTM D 395 type 2: 4,5mm±0,01mm
DIN 53 517-I: 4,72mm±0,01mm
Construction Characteristics
Chrome-plated steel plates with 18 mm thickness.
Roughtness of the plates
Ra < 0.4 µm
Calibration
Calibration report with traceability to the instruments used. Calibration includes:
- Measurement of surface roughness
- Measurement of the thickness of the spacers
Weight of complete device
Device with Two Plates: 8 kg
Device with 3 Plates: 11.5 kg
Bolts for Closure
N ° 3 Bolts for high temperature M12. The screws are recessed in the device to allow quick closure with screwdriver